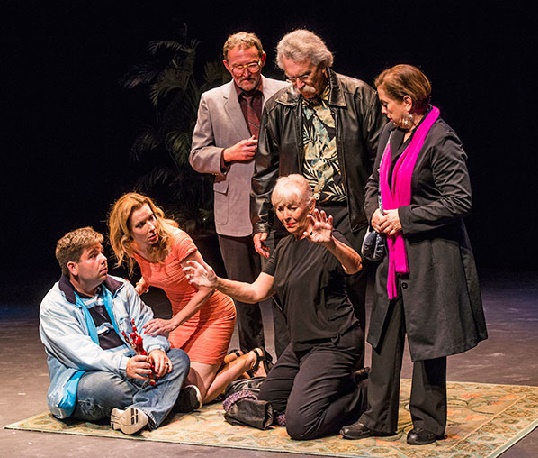 Four plays have been selected to be presented at Theatre Odyssey's Student Ten-Minute Playwriting Festival on Friday, January 16, 2015 at the David S. and Anne V. Howard Studio Theatre, State College of Florida (Bradenton Campus) at 7:30 p.m. on Friday, January 16, 2015.
DUMBBELLS by Richard Caldwell is a three-person script that follows the misadventures of the world's stupidest secret agents.
MISTAKEN IDENTITY by Hayes Chatham is a five-character farce set in a greasy spoon diner where most of the patrons are not who they appear to be.
THE ONE CANDLED CAKE OF AUGUSTA ROBEAR by Amy D.O.P. is a serious three-character play that deals with implications of depression and self-harm.
AS LONG AS THE MOON SHINES by Julien Freij is a serious story of love and sacrifice involving three characters, one of whom is a nine-year-old girl.
"Nine plays were submitted for consideration this year, representing four schools in Sarasota and Manatee counties," said Preston Boyd, Artistic Director for the festival.
Three theater professionals having no connection to any schools were given the scripts without knowledge of who wrote each one or what schools each playwright represented. Once the readers evaluated the nine scripts with a numerical scoring system, the top four were chosen for production.
Directors of the plays are Daniel Greene and Cinda Goeken. A panel of adjudicators consisting of KAY KIPLING (Sarasota Magazine), BRAD WAGES (Venice Theatre), DAVID and ANNE HOWARD (local theatre professionals) will announce a Best Play award at the end of the performances and present a check for $300 to the winning playwright. His or her school will also receive a trophy for display until the next student festival. A Runner-Up award of $100 will also be presented.
Tickets will be available on December 3, 2014 by visiting www.theatreodyssey.org.
Theatre Odyssey's Third Annual Student Ten-Minute Playwriting Festival is made possible in part by a grant from the Community Foundation of Sarasota County.
Photo: The cast of "Elevate My Life" by Jospeh Grosso, the 2014 Student Ten-Minute Playwriting Festival Best Play; photo by Cliff Roles.