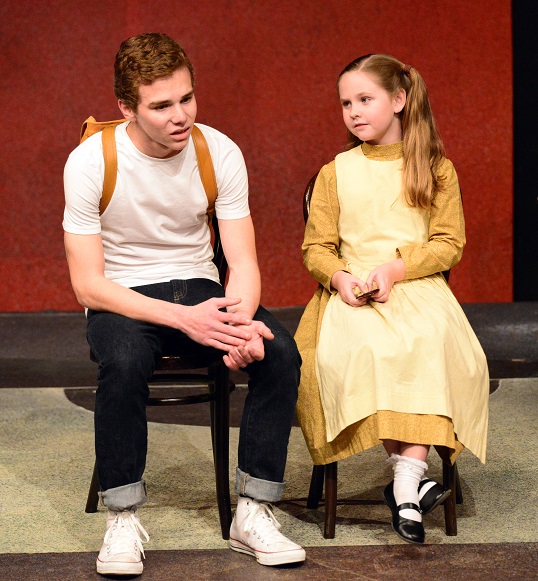 The poignant story of a young man in search of his future while devoted to the care of his young sister was chosen as Best Play at the Third Annual Student Ten-Minute Playwriting Festival, at the Anne V. and David S. Howard Studio Theatre, State College of Florida, on January 16.
The cast included Victoria Greenlaw, Ben Kalish and Tami Vaughan, directed by Daniel Greene. Mr. Freij received a cash prize of $300. The festival Best Play trophy will reside at Saint Stephen's Episcopal School, the school attended by the author, until Theatre Odyssey's next student play festival in 2016.
The runner-up play, The One Candled Cake of Augusta Robear, by Amy D.O.P., from Manatee School of the Arts and Bayshore High School, earned its author a $100 cash prize. Cinda Goeken directed Debbi White, Katie Terre, and Anthony Chase in this story of a young woman, her relationships, and depression.
The adjudicators selecting these winning plays were stage performer and director Helen Holliday; Sarasota Magazine arts editor Kay Kipling; long-time Asolo Rep Company member, actor David S. Howard; and Venice Theatre lead teacher, director, and choreographer Brad Wages.
The festival's artistic director was Preston Boyd. Theatre Odyssey's President, Tom Aposporos said, "Preston has given his heart to this festival for each of the last three years. The full house is testimony to the worthiness of his effort, and we are all grateful."
Aposporos announced that the Best Play trophy will be renamed to honor the Community Foundation of Sarasota County, recognizing their support to Theatre Odyssey for this festival. He also announced that donations have been received to fund the Best Play and Runner-up prizes in 2016. Julian Olf and Patricia Vandenberg have donated $500 for the Best Play award, and Ron and Patrice Pantello have donated $200 for the Runner-up prize.
Theatre Odyssey's Third Annual Student Ten-Minute Playwriting Festival is made possible in part by a grant from the Community Foundation of Sarasota County.