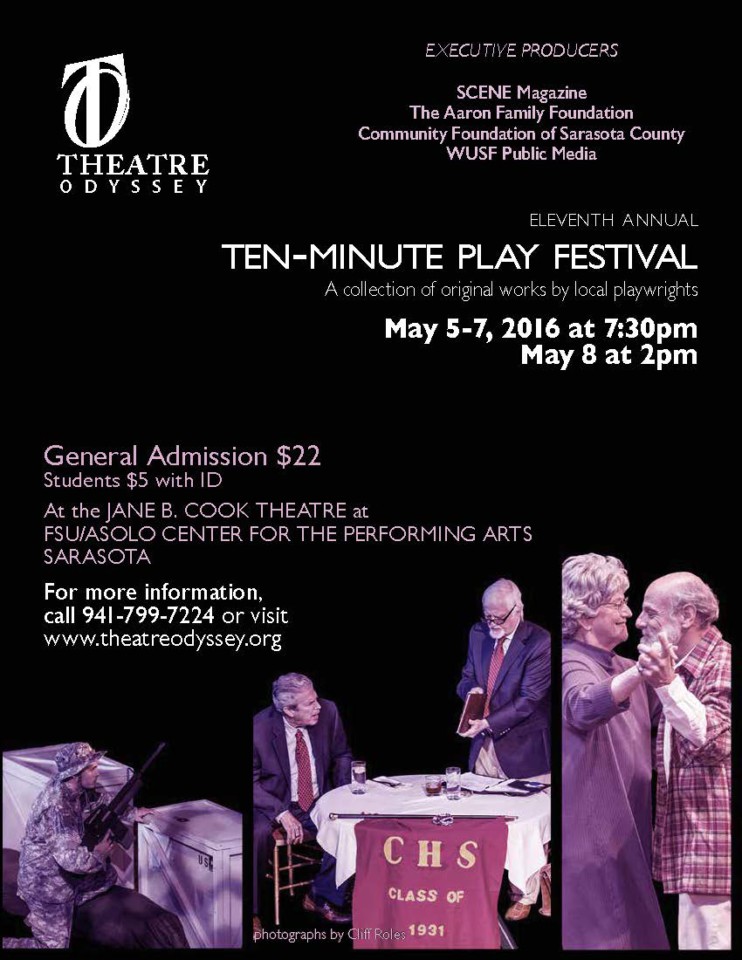 Theatre Odyssey has announced that the finalists for the Eleventh Annual Ten-Minute Play Festival are:
Call These Delicate Creatures Ours, and Not Their Appetites by Peter Balaskas
The Clown by Larry Hamm
Clarinet Licks by Frederic Sirasky
Chopping Celery by Connie Schindewolf
A Tender Moment by Frank Motz
Silences by Mark Leib
Miss O'Hara, I Have a Confession to Make by Bernie Yanelli
Hands by Sylvia Reed
The announcement was made at The Starlite Room in Sarasota on March 7.
This year's festival will be held on May 5 through May 8 at the Jane B. Cook Theatre, FSU/Asolo Center for the Performing Arts, 5555 North Tamiami Trail, Sarasota. Evening performances are at 7:30 p.m. on May 5, 6 and 7. The May 8 performance is at 2 p.m.
A bonus play at each festival performance will be the winner of this year's Student Ten-Minute Playwriting Festival, Julien Freij's BROTHERS IN ARMS, a poignant portrayal of the Christmas truce between the British and the Germans during World War I.
Tickets are $22 per person for general seating ($5 for students with valid ID) and can be purchased here.
NOTE: Tickets can currently only be purchased via desktop computer, as we are experiencing an issue with mobile reservations in our ticketing system.
If you have any trouble, please contact us by email at info@theatreodyssey.org or you may leave a message at (941) 799-7224 and we will be happy to assist you in reserving your tickets.
The Executive Producers for this year's festival are the Community Foundation of Sarasota County, WUSF Public Media, SCENE magazine and the Aaron Family Foundation.