360 minutes of insightful, fanciful and comic flights of imagination —
ready for you to experience again!
TEN-MINUTE PLAY FESTIVAL
VOLUME THREE: 2014-2017
EDITED BY LARRY HAMM
36 ten-minute plays by:
Marvin Albert • Peter A. Balaskas • Greg Burdick • Jason Cannon • Stephen Cooper • Julien Freij • Jack Gilhooley • Joseph Grosso • Larry Hamm • Dylan H. Jones • Arthur Keyser • Robert Kinast • Mark E. Leib • Dale E. Moore • Frank Motz • Ron Pantello • Sylvia Reed • Verna Safran • Connie Schindewolf • Fredric Sirasky • Luke Valadie • Bernard Yanelli
20% DISCOUNT DURING FESTIVAL!
A limited supply will be available at 20% off during the Festival. When that supply is gone, copies may be purchased online at full price.
Theatre Odyssey was founded in 2006 to encourage and promote the efforts of local playwrights and actors. Over the years, the group has premiered over 150 plays, written, directed and performed by Gulf Coast playwrights, actors and directors. These volumes capture a diverse selection of work from the company's beginnings in 2006 through 2017.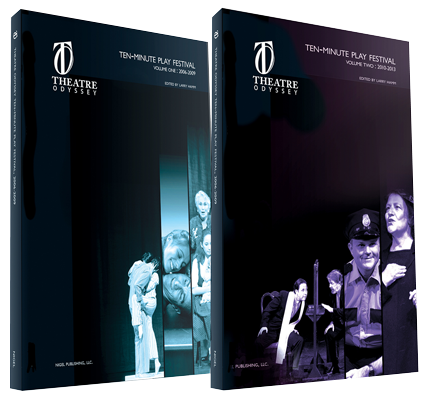 TEN-MINUTE PLAY FESTIVAL
TEN-MINUTE PLAY FESTIVAL
Available through Amazon, Barnes & Noble, Target, and other National Booksellers.
Smile when buying on Amazon
AmazonSmile is a website operated by Amazon with the same products, prices, and shopping features as Amazon.com. The difference is that when you shop on AmazonSmile, the AmazonSmile Foundation will donate 0.5% of the purchase price to the charitable organization of your choice. Every item available for purchase on www.amazon.com is also available on AmazonSmile (smile.amazon.com) at the same price.
How do I shop at AmazonSmile?
To shop at AmazonSmile simply go to smile.amazon.com from the web browser on your computer or mobile device. You may also want to add a bookmark to smile.amazon.com to make it even easier to return and start your shopping at AmazonSmile.
Select Theatre Odyssey as the charitable organization to support when shopping on AmazonSmile
On your first visit to AmazonSmile smile.amazon.com, you need to select a charitable organization to receive donations from eligible purchases before you begin shopping. Then every eligible purchase you make at smile.amazon.com will result in a donation.
For more information about the AmazonSmile program, go to http://smile.amazon.com/about.