320 minutes of insightful, fanciful and comic flights of imagination —
ready for you to experience again!
ORDER YOURS TODAY!
TEN-MINUTE PLAY FESTIVAL
VOLUME FOUR: 2018-2021
Complete scripts for 33 new ten-minute plays, finalists at annual festivals produced by Theatre Odyssey, 2018-2021: Marvin Albert, Seva Anthony, Michael Bille, Dorothea Cahan, Monica Cross, Paul Donnelly, Cece Dwyer, Tony Gunn, Dan Higgs, Kea Kamiya, John J. Kelly, Arthur Keyser, Frank Motz, Marj O'Neill-Butler, Spencer Opal-Levine, Michelle Pascua, Ken Preuss, Sylvia Reed, Arianna Rose, Connie Schindewolf, Fredric Sirasky, Mary Margaret Steber, Laurie Stoner, Luke Valadie, Jan Wallace, Robert Wanderman, Keith Whalen, Bernard Yanelli. Performance rights for these individually copyrighted works are available directly from the authors.
20% DISCOUNT DURING FESTIVAL!
A limited supply will be available at 20% off during the Festival. When that supply is gone, copies may be purchased online at full price.
Theatre Odyssey was founded in 2006 to encourage and promote the efforts of local playwrights and actors. Over the years, the group has premiered over 200 plays, written, directed and performed by Florida playwrights, actors and directors. These volumes capture a diverse selection of work from the company's beginnings in 2006 through 2021.
TEN-MINUTE PLAY FESTIVAL
VOLUME THREE: 2014-2017
36 ten-minute plays by:
Marvin Albert • Peter A. Balaskas • Greg Burdick • Jason Cannon • Stephen Cooper • Julien Freij • Jack Gilhooley • Joseph Grosso • Larry Hamm • Dylan H. Jones • Arthur Keyser • Robert Kinast • Mark E. Leib • Dale E. Moore • Frank Motz • Ron Pantello • Sylvia Reed • Verna Safran • Connie Schindewolf • Fredric Sirasky • Luke Valadie • Bernard Yanelli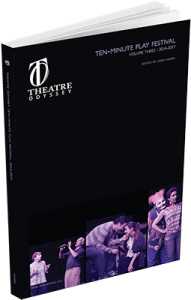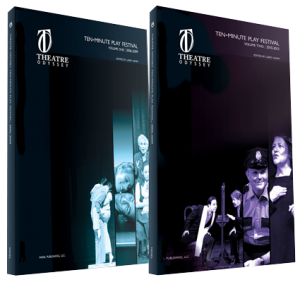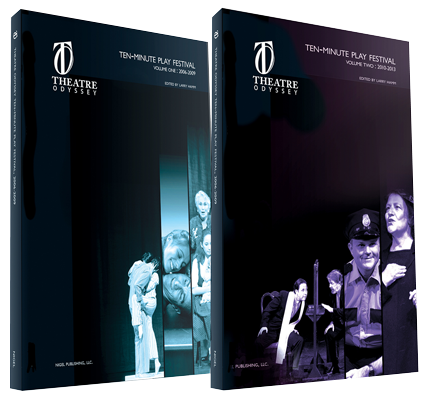 TEN-MINUTE PLAY FESTIVAL
TEN-MINUTE PLAY FESTIVAL