FOURTEENTH ANNUAL TEN-MINUTE PLAY FESTIVAL
A collection of original works by Florida playwrights
Romance and mystery, passion and intrigue, humor and heartbreak — the playmaker's art stripped down to its sinewy essentials. The ten-minute play, whatever its subject, puts you in the middle of the action immediately. You'll find smiles, tears and surprises among the eight new plays in this competition for Florida playwrights, to be presented May 9-12 at the Jane B. Cook Theatre (Asolo/FSU Center for the Performing Arts) in Sarasota.
The Best Play, as determined by a panel of experienced theatre professionals, will receive a $500 prize. Runner-Up receives $300. Winners will be announced following the final performance on May 12.
Deadline for entries is February 28. The eight plays selected for production will be announced in March and details posted here. Tickets will go on sale March 15.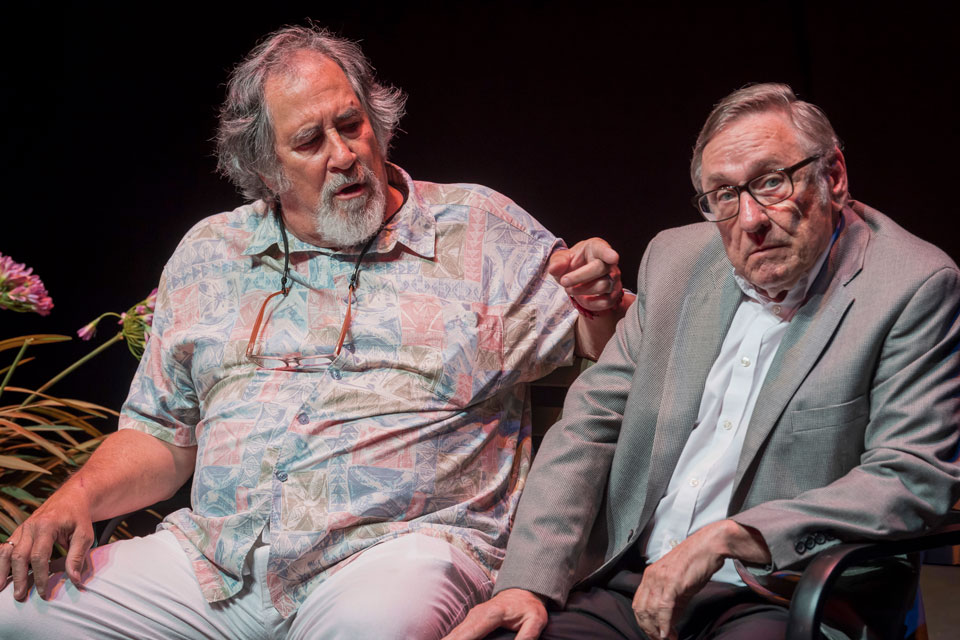 Neil Levine and Richard LeVene in "The Card Game"
"The Card Game" by Michael Bille was named Best Play at Theatre Odyssey's 2018 Ten-Minute Play Festival. The touching play depicts two friends lamenting the passing of another friend who is a part of their long-standing card game. The Runner-Up Play, "Cliché," by Keith Whalen is about two strangers in a park carrying on a hilarious conversation of clichés that gets broken up by the police and ends in a surprise twist. Patrons also had an opportunity to vote for a favorite play, and this year's Audience Favorite Award went to Bernard Yanelli's "Death of Honor."