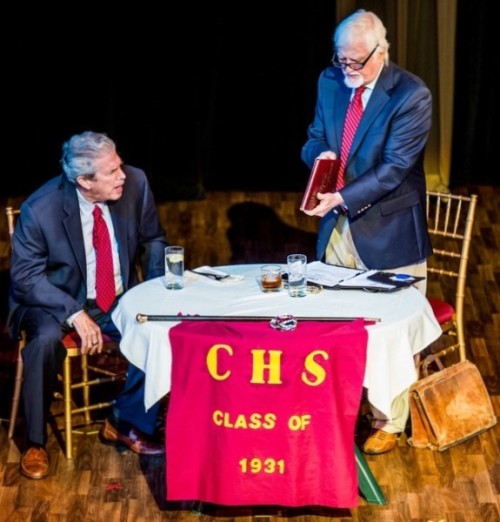 HIGH SCHOOL REUNION, Arthur Keyser's comedy about the meeting of two 101-year-old former high school classmates attending their 83rd class reunion and concluding they shouldn't part ways without planning the big one—the 85th— won Best Play honors at the Tenth Annual Ten-Minute Play Festival.  The centenarians were performed by Dan Higgs and John Forsyth, and the play was directed by Louise Stinespring.
THE COWARD, by Dylan Jones, a two character drama revealing fates worse than death, directed by Preston Boyd, and performed by Ren Pearson and David Yamin, was Runner-up play.
Festival adjudicators, Urbanite Theatre Co-Artistic Director Summer Wallace; Bradenton Herald arts and entertainment writer and theatre critic Marty Clear; actor and Florida Studio Theatre management team member Jim Sorensen; made their decisions following the May 2 performance of the plays.  Each of the judges received copies of each of the plays weeks ago along with the instruction that the written word was most important in their scoring process.
The tenth festival, completely sold-out for each of its performances at the Jane B. Cook Theatre at the FSU/Asolo Center for the Performing Arts, was marked by firsts for Theatre Odyssey.  Meredith Worthley served as a sign language interpreter for the Opening Night performance, and 12-year-old music prodigy Jenny Armor played live violin interludes between plays.
In addition to the Best Play and Runner-up designations, the playwrights receive cash awards for their honored plays.
Executive Producers for the festival were the Community Foundation of Sarasota County, SCENE Magazine, WUSF Public Media, and Gerri Aaron.  Producers were the Freij Family.